FOR A GREAT NATURAL SPECTACLE ON MOUNT AHORN!
Last updated on 20.05.2022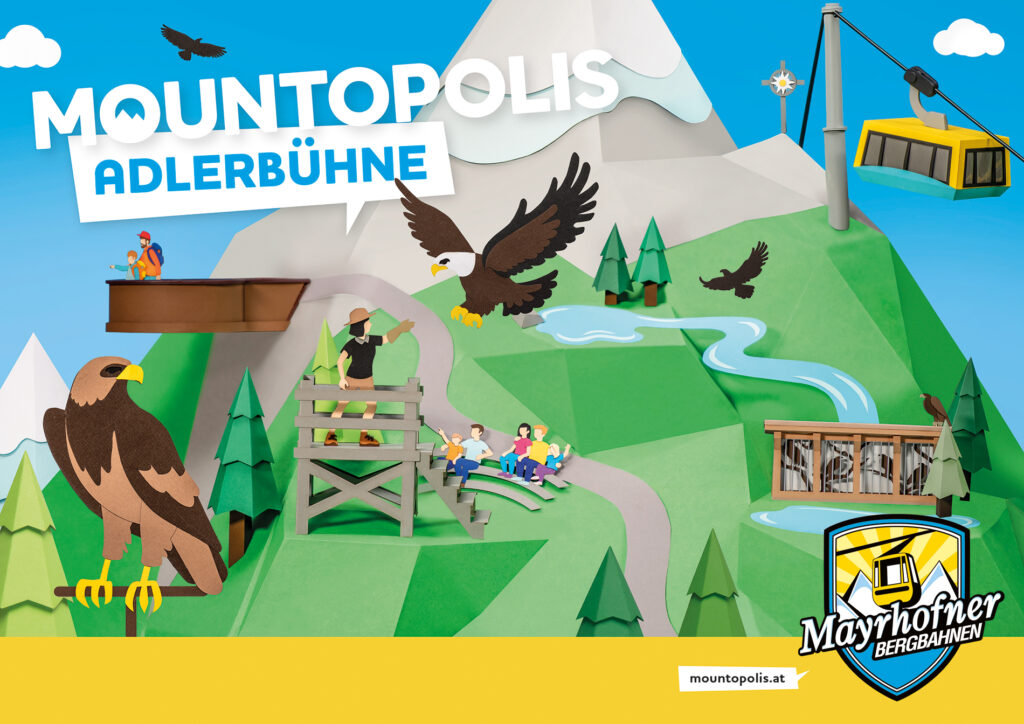 Mayrhofen, 2022: Check this out! Your very own blockbuster awaits you high up in the mountains of Tyrol at Mountopolis – the Mayrhofner Bergbahnen World of Adventure. The setting: Eagle's Stage on Mount Ahorn. The backdrop: The impressive peaks of the Zillertal Valley. The stars: Eagles, buzzards, owls and the like. The supporting actors: Falconers Waltraud and Didi Wechselberger. The genre: A mix of action film and animal documentary with a healthy measure of emotion that will make your heart swell. Featuring: a screenplay filled with effortless power and gentle strength, a graceful awareness of life and intoxicating freedom.
The alpine summer of 2022 performs many roles on Mount Ahorn for adventurous families and "mountain lovers" eager to discover expansive views and more: Those of sublime summits and satisfying hikes high above the valley floor. One is an enthralling, cinema-esque aerial extravaganza: with no staged Hollywood effects, yet Oscar-worthy with pleasant surprises and touching WOW moments. A thrilling spectacle for people of every age.


MOUNTOPOLIS INSTEAD OF HOLLYWOOD

Visitors don't need to wear a tuxedo or fancy ballgown to attend the sky gala at Eagle's Stage on Mount Ahorn. Sturdy shoes and comfortable walking clothes will suffice. The Ahornbahn, Austria's largest cable car, whisks visitors quickly and comfortably up the mountain to Europe's highest Bird of Prey Sanctuary at 2,000 metres above sea level. Since 2009, the "kings of the skies" feel very much at home here amidst the spectacular panorama of the Zillertal Alps, as their quarters are built entirely from wood, stone and earth and blend in perfectly with the natural surroundings. The two passionate falconers, married couple Wal-traud and Didi Wechselberger, know just how to direct eagle "Steppi", falcon "Hansi", eagle owls "Billi & Virginia", harri's hawk "Lanny", red-tailed hawks "Ashok & Laika" and black-chested buzzard-eagle "Yakar-iBlue" during their exciting show.

ACTION!

Happy spectators enjoy the show as the suspense rises. An introduction to the Eagle's Stage on Mount Ahorn, which is accessed via the informative Birds of Prey Path, however, requires no fanfare. The impres-sive location alone and the act of becoming better acquainted with the birds of prey is a formative experi-ence in itself. Visitors have free, daily access to the Eagle's Stage on Mount Ahorn from mid-June to October (except Wednesday) between 10.00 a.m. and 12.00 p.m., where they can visit the falconers with their Birds of Prey.
At the Birds of Prey Show, which takes place daily (except Tuesdays) at 02.00 p.m., up to 800 "cinema-goers" can experience the majestic aerial acrobats in action and, in addition to the impressive flight ma-noeuvres, discover exciting information about the habits of these feathered wild animals. A show of this kind at such close quarters is way better than any evening at the cinema.

FALCONRY BACKSTAGE

Every Wednesday from 10.00 a.m. to 12.00 p.m., you can accompany the falconers behind the scenes. This thrilling experience is reserved for a maximum of 10 participants with a minimum age of 16 and requires prior registration via the www.mayrhofen.at/tickets website. Those curious to find out more will discover what it is like to be a falconer and how to properly feed and care for these fascinating animals, as well as how to treat them in a species-appropriate manner. They will also find out what needs to be considered when it comes to animal welfare.

"DE ARTE VENANDI CUM AVIBUS!"…

… already sounds like a blockbuster title, combined with unparalleled views offered by Mount Ahorn. But what is the thrilling story behind it? Nature lovers, animal lovers and mountain sports enthusiasts will find the answers to this and more directly at the FalknerOase. After the Eagle's Stage had captured visitors' imagination for over a decade, a new highlight was created in Mountopolis in 2021, in the form of the Falk-nerOase. Spread around Filzen Reservoir, visitors can delve into the history of falconry at seven exciting stations, learn all about a falcon-er's equipment and familiarise themselves with the local Birds of Prey. There are also many resting areas, where you can just kick back and soak up the fabulous vista.