Thrilling bike action and great atmosphere at the biggest gravity mountain bike festival: Crankworx Innsbruck now confirmed until 2022
Last updated on 24.07.2019
In 2019 the third edition of Crankworx Innsbruck attracted more than 22,000 visitors and more than 600 athletes to Bikepark Innsbruck. Gravity mountain bike fans now have reason to celebrate because this hugely successful event is being extended until 2022! This means that Innsbruck's summer sporting highlight is confirmed for the next three years. Just as Crankworx has been generating ever greater excitement year on year, the range of biking options in the Innsbruck region has been continuously expanded. New to 2019 is the extension of the trail 'The Chainless One' and the opening of 'The Straight One' and the Dual Slalom track.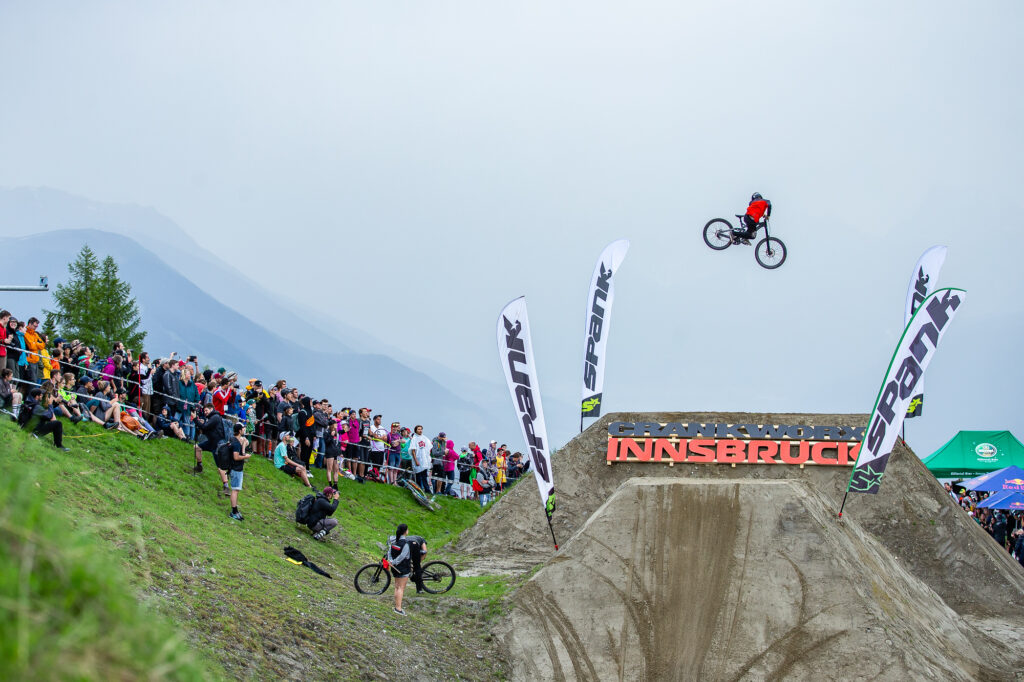 Festival atmosphere, spectacular stunts and cheering spectators: as the only European stop of the Crankworx World Tour, which has further stations in Rotorua in New Zealand and Whistler in Canada, the event has been a thrilling attraction for three years with its speed, spectacular jumps and a festival atmosphere the whole family can enjoy. The absolute elite of gravity mountain biking compete for the title 'King and Queen of Crankworx' in the disciplines of Whip-Off, Pumptrack, Dual Speed & Style, Dual Slalom, Slopestyle and Downhill. With 621 competitors from 26 countries, the number of participants in 2019 in Innsbruck was greater than ever.
Kidsworx, EXPO and demo areas and workshops over the festival weekend, as well as an international party atmosphere at Bikepark Innsbruck in Mutters and in the city itself, place the focus on that wonderful fusion of alpine and urban flair that makes Innsbruck the perfect destination for a very special sporting and stylish city break.
Crankworx Innsbruck is also committed to continuously expanding what's on offer: "The Straight One" is a new trail for 2019, and further trails are to follow
Just as Crankworx inspires more and more fans from all over the world every year, the range of options for biking enthusiasts in the region continues to grow – with Bikepark Innsbruck in Mutters at the centre.
This year, for example, as part of Crankworx Innsbruck, the new trail 'The Straight One' was ridden for the first time, and visitors to the Bikepark can now follow in the stars' tracks. The new trail is a real winner with a short but challenging track that changes character every few metres. In total there are now nine trails, a kids' and beginners' park, a pump track, a dual slalom track and the Dirtpark by the Arme Leute Bichl in the Rossau district of Innsbruck. The Skating and BMX Hall in Innsbruck rounds off the range of options. And for the next few years not only are three more editions of Crankworx now confirmed, but more trails will also be created.
Bike City Card – the key to all the biking options around Innsbruck
Had enough of watching and now up for the challenge of a downhill? Just one ticket gives bikers access to all the trail areas around Innsbruck: the Bike City Card includes the trails on the Nordkette mountains and in Bikepark Innsbruck, Bikepark Tirol in Steinach and both trails by the Elferlift in Neustift in the Stubaital valley. The ticket is available for one to five days. It even allows bikers to visit several trail areas on the same day and, of course, unlimited use of the cable cars including bike transport is also included. So there's no better way to make use of the event-free time. A day ticket is already available from €36.00 at all participating cable car companies and Innsbruck Information. More information at: www.bikecity-innsbruck.com