Ski Free Kühtai – free fun on the slopes at the start of the season
Last updated on 15.10.2019
Not only does Ski Free Kühtai provide unlimited possibilities for pure fun on the ski slopes, it also enables skiers to save money.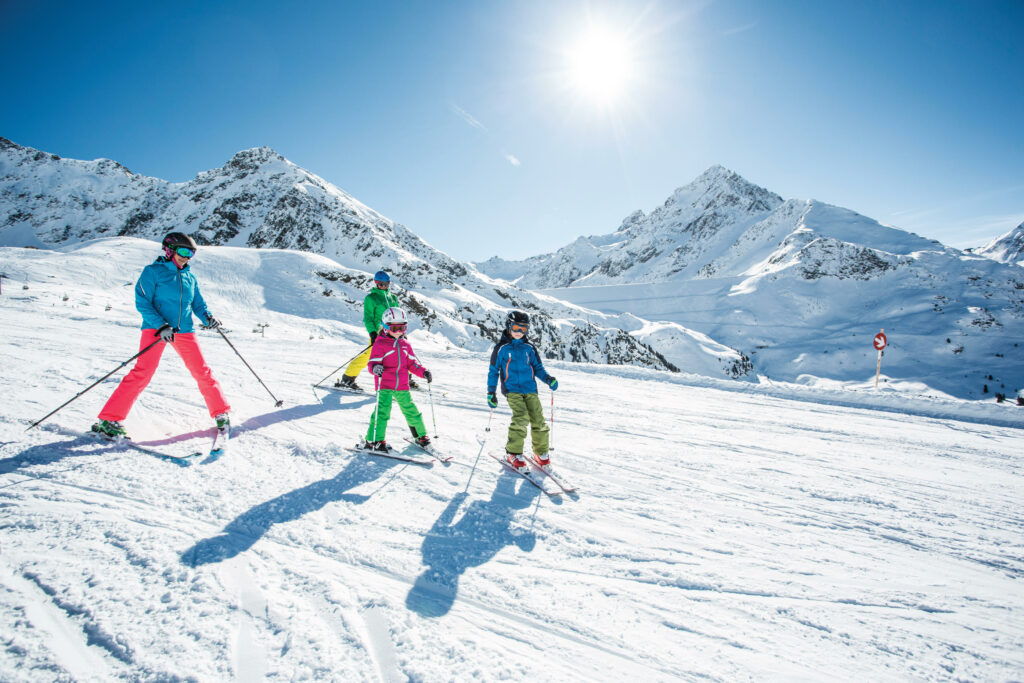 With its special features and an altitude of 2,020 metres, Innsbruck's Kühtai ski resort is unique. Winter comes very early here, ensuring a timely start to the season and all sorts of fun on the slopes.
So, don't waste time! Get your skiing equipment out of storage and you'll find there's so much on offer in Kühtai, even including a free ski pass. If you stay for three nights or more from 29 November to 20 December 2019, the ski pass for adults and children is thrown in free of charge. And there's yet another benefit. Courtesy of the ski association, the free ski passes are also valid at our neighbour resort in Hochoetz (from the start of the season to 13 December 2019). This means that you have altogether 85 kilometres of slopes and 25 cable cars at your disposal, and they're all easy to get to on the free ski bus. Also, all the hotels and guesthouses in Kühtai are next to the slopes. So you can leave your car in the garage, step outside, snap on your skis and it's off onto the slopes for plenty of winter sports fun.
Kühtai-Hochoetz ski pass: twice the sun, twice the fun, with one ski pass
The Kühtai-Hochoetz ski pass enables skiers of all ages and ability levels to take advantage of a wide range of options. You can enjoy skiing at the heart of a diverse natural landscape ranging from ancient pine forests to majestic peaks. The views of the 3,000 m peaks and the distinctive aromas emanating from the pine trees also in winter transform a day's skiing into the perfect winter treat. With 64 days of sunshine, Hochoetz is one of the 5 sunniest ski areas in Austria and it has a strong commitment to being family-friendly. The wide range of attractions for the younger ones include WIDI's Movieshuttle, a 5-D cinema experience, the WIDI Rallye where the cheerful mascot criss-crosses the ski area setting exciting tasks for curious minds, and WIDI's fun park for aspiring freestyle heroes.
Serious skiers can look forward to wide runs and plenty of space for extensive turns in Kühtai. The KPark Kühtai also comprises SuperPipe, a FreeStyle area & Snowcross, offering all freestyle fans lots of real excitement. The two ski areas also provide for night skiing. In Hochoetz the slopes are floodlit every Tuesday and in Kühtai on Wednesdays and Saturdays.
Christmas markets and light show in Innsbruck
And if you'd like to enjoy some pre-Christmas atmosphere during your skiing holiday, there's nothing better than a visit to Innsbruck's Christmas markets where more than 200 market stalls make for a delightful stroll through 7 individual markets. Another programme highlight to enrich the pre-Christmas season in Innsbruck takes place in the inner courtyard of Innsbruck's Imperial Palace which is transformed into a unique backdrop for audio-visual 3D light projections. Whilst last year the Lightshow Max500 brought Emperor Maximilian I back to life, this year the power of nature and an adorable marmot are the stars of a brilliant light spectacle at the Mount Magic Light Show. Impressive XXL-format effects allow visitors to immerse themselves in wondrous worlds of imagination.
Further information:
https://www.kuehtai.info/winter/kuehtai/angebote-pauschalen/ski-free.html
Kühtai Tourist Information Office, tel. +43-5239-5222, office@kuehtai.info, www.kuehtai.info