Mount Magic Light Show in Innsbruck: A stunning visual spectacle
Last updated on 15.10.2019
While last year all eyes were on Emperor Maximilian I, this year it will be the majestic power of nature and a lost alpine marmot taking centre stage in the courtyard of Innsbruck's Hofburg imperial palace. From 27 November 2019 until 19 January 2020, the 3D video mapping spectacle Mount Magic will transform the 1,300 m² facade into a huge cinema screen thanks to seven high-power projectors and a finely tuned sound system. The daily shows promise an open-air winter experience unlike any other.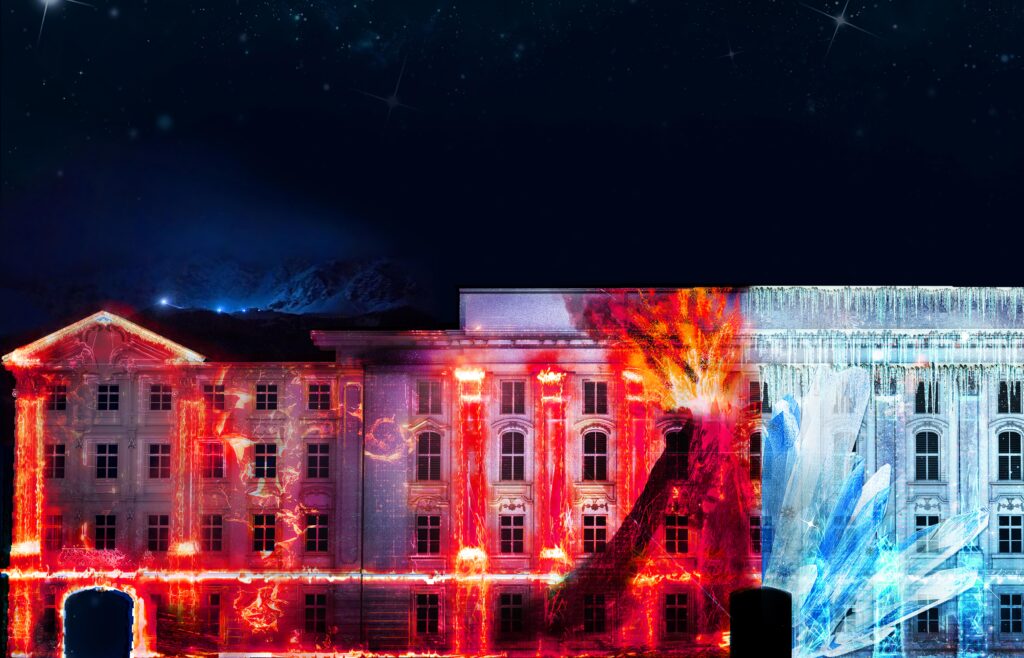 Majestic, harsh and breathtakingly beautiful, the power of nature lies at the heart of the Mount Magic light show. It traces the history of Planet Earth from the creation of the ancient supercontinent of Pangea and its rich volcanic activity to the development of life in the oceans, the ice ages and the warm periods. There is plenty of action and adventure, too, with visitors accompanying a lost marmot separated from his family in his quest to be reunited with them – a sometimes surreal, dream-like experience brought to life using 3D mapping projected onto the walls of the Hofburg imperial palace. The façade of the inner courtyard serves as an interactive projection surface that is constantly changing and blends in seamlessly with the light show as a creative element in its own right. Mount Magic aims not to explain but instead to inspire and conjure up dreams – a multimedia experience for all the family.
The Mount Magic light show begins daily at 17:30 and 18:30. As the Maximilian Year draws to a close, there is also a final chance each day at 19:30 for visitors who missed out last year to see the Light Show Max 500 marking 500 years since the death of Emperor Maximilian I.
Details:
Period: 27.11.2019 – 19.1.2020 (no shows on 24.12.2019)
Location: courtyard of the Hofburg imperial palace in Innsbruck (open-air event, standing only, no seating provided)
Three shows a day: 17:30 and 18:30 (Mount Magic), 19:30 (Light Show Max 500)
Duration: approx. 20 minutes
Ticket prices: adults €10 (every Monday is Magic Monday, tickets €7), children aged 6-16 years: €4, free admission for children under 6 years of age when accompanied by an adult
Tickets available online at www.innsbruck.info/lightshow as well as from the Innsbruck Tourist Information Office (ticket@innsbruck.info) and from 16:00 at the sales point in front of the "Haus der Musik" building opposite the Hofburg imperial palace