The Highest, the Largest, the Steepest: Ten Tirol Winter Highlights & Bragging Rights
Last updated on 01.01.2018
Tirol's mountain winter competes for states (and in some cases national) bragging rights. With ever-evolving technology, a tendency to teeter on the extreme, and an unquenchable drive to offer visitors the best, Tirol's ski resorts have many record-breaking surprises up their sleeves. Here, we uncover the largest, the longest, the steepest, and who serves up the highest mountaintop latte.
The Largest Ski Resort in Austria: St. Anton am Arlberg
Three border-erasing gondola lines create the largest ski resort in Austria. The 1.8-kilometer long Flexenbahn interconnect gondola and two Trittkopfbahnen Gondolas transport guests from Tirol's St. Anton am Arlberg to Vorarlberg's Stuben/Rauz and Zürs/Lech. The Arlberg-Arena, you have at your disposal a giant 305-kilometer playground that is serviced by 87 gondolas and ski lifts. The "Run of Fame" loop trail stretches from the southern edge of St. Anton to the northern edge in Warth. That's 65 kilometers and 18,000 vertical meters from edge to edge.
http://www.stantonamarlberg.com/en/winter/ski-area/closing-the-loop-with-the-flexenbahn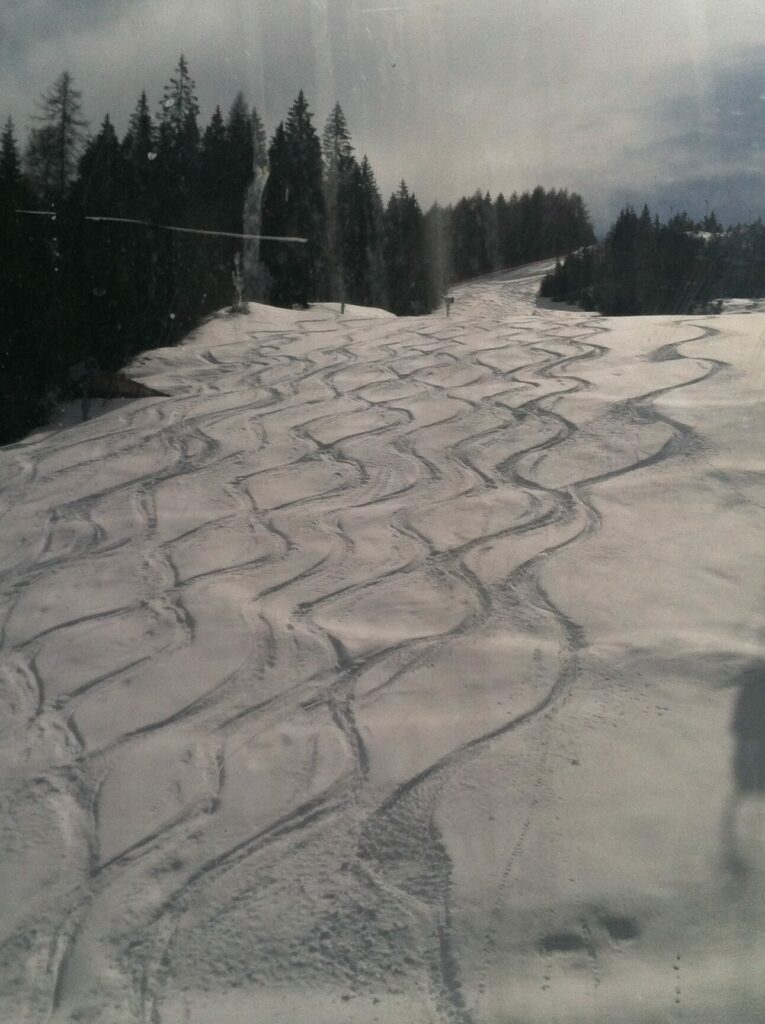 Austria's Steepest Downhill Run
Wipptal takes the gold for their Trail: The thrilling Manni-Pranger Trail rakes in hard-core honours for being Austria's steepest downhill run. With a 102 percent grade, this is a no-fear zone for expert skiers and boarders only. There's no easy way down along this slope that boasts 1 kilometer of steep, challenging plummets. Making the right snow on this steep terrain has proven to be a bit of an issue.
https://www.bergeralm.net/en/ski-slopes-more/
The Most Unique Party Location: Cloud9 Igloo Bar on Nordkette Mountain
One of the most outstanding things about Innsbruck is that almost every corner you turn affords spectacular views of lofty Nordkette Range, the city's natural skyscrapers. Urban meets outdoors in Tirol's lively capital, where a space-age funicular speeds you right from the city centre to high Alpine terrain in 20 minutes. In the winter, a stunning igloo event arena at Seegrube, situated at an elevation of 2,000 meters above sea level, relishes this unique location high above town: Accommodating up to 400 partygoers in two igloos, Cloud9 is the rallying point for those kicking off an evening out in Innsbruck and the after-dark crowd who appreciate above-ground ambience and jaw-dropping views.
The Best Dreams: Luxury Ski-In, Ski-Out Chalets
There's nothing better than the luxury of walking out your accommodation and putting your skis straight on: No walking in ski boots, no bus or car rides, simply step into your skis or snowboard and start skiing. If this sounds like your ideal skiing holiday, then consider staying in one of Tirol's amazing Ski-In/Ski-Out Accommodations, wherethe slope is literally on your doorstep. Upping the ante in slopeside lodging, these fabulous mountain chalets deliver extraordinary luxury surrounded by breathtaking mountain scenery: Maierl Alm & Chalets in Kirchberg/Kitzbühel, Wedelhütte at Hochzillertal Ski Resort, Kristallhütte at Hochzillertal-Fügen Ski Resort and Gradonna Mountain Resort at Großglockner Resort Kals-Matrei.
http://www.tyrol.com/things-to-do/sports/skiing/accommodation-right-next-to-the-slopes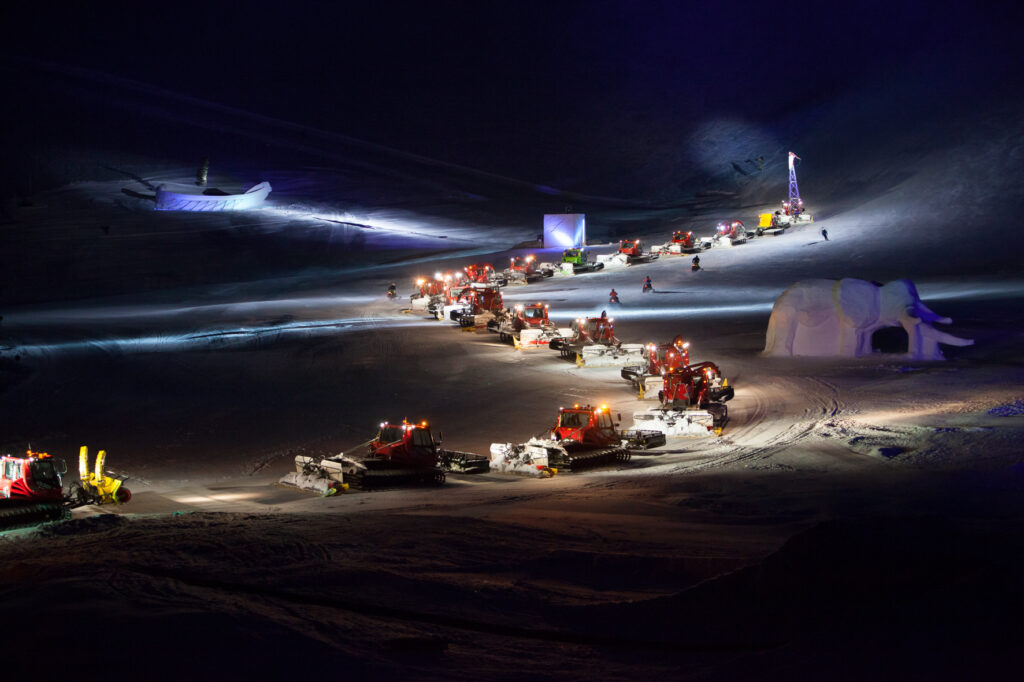 The Biggest Mountaintop Live Performance: Hannibal at the Sölden Glacier Ski Resort
A spectacular show returns to Sölden's Rettenbach Glacier on April 22, 2022: Experience one of the most remarkable feats of military history, the Second Punic War, where Hannibal, a Punic military commander from Carthage, marched an army which included war elephants from Iberia over the Pyrenees and the Alps into Italy. This spectacular live performance sets the historical events of the Second Punic War and the biography of its most important protagonist in the contemporary language of today's theatre at 3,000 meters about sea level, in the most original stage set possible, transcribing the images of this hero into poetic pictures. Snow cats as elephants. Skiers, climbers, and parachutists act as modern-day warriors. Giant horsemen cross the endless glacier fields on their skidoos while flying acrobats try to hinder the attack. Produced by a local artistic network called lawine torrèn, "Hannibal" features plenty of music, light effects, video films and pyrotechnic shows.
https://www.soelden.com/winter/events/hannibal-the-open-air-theatre.html
Where Winter Never Ends: Year Round Skiing at Hintertux Glacier Ski Resort
Hintertux Glacier hosts Austria's one and only summer skiing experience—with year-round skiing, the resort also boasts the longest snow season in Austria. Even in the summer, when the sun is shining and the air is warm, it's the perfect time to … go skiing and riding. Hintertux Glacier lets you experience the best of both worlds—work on your tan at altitudes 3,200 meters above sea level and get your ski/ride fix at the same time. Jürg Tarmann is the experienced head of the local grooming crew and provides a superb training ground for over 60 ski teams from all corners of the globe and vacationers seeking a challenge.
http://www.hintertuxergletscher.at/en/home.html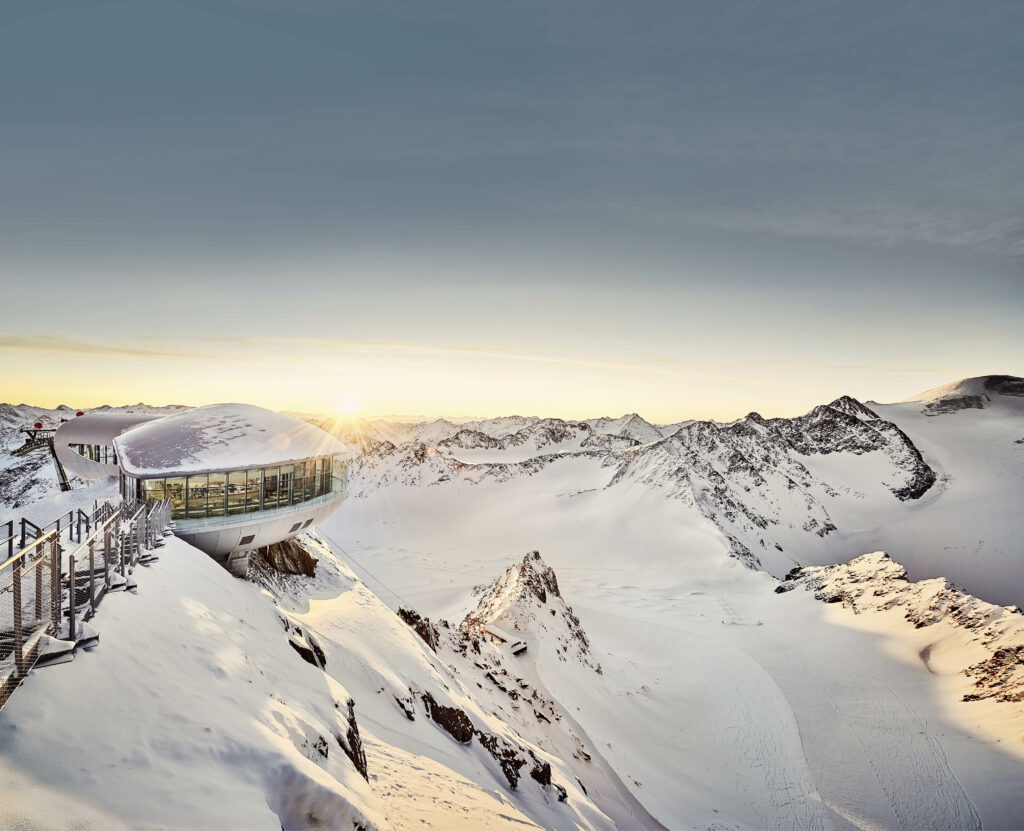 Austria's highest Café: Café 3440 at Pitztal Glacier
Worth the journey to the Pitztal Glacier just for the captivating panoramic views, Wildspitzbahn is the highest cable car in Austria. Skiers and riders who need a caffeine boost atop the mountain can order a grande latte at Austria's highest Café, named 3440 for its altitude (3,400 meters above sea level). Guests arrive via cable car and enjoy wonderful pastries and cakes, which are lovingly prepared by master patissier Norbert Santeler "down one floor", at an elevation of 2,800 meters.
http://www.tyrol.com/things-to-do/attractions/all-attractions/a-cafe-3440-austrias-highest-cafe
Mountaintop World Stars: Time to Celebrate!
Tiroleans don't head inside when the weather gets cold and the snow starts falling—we celebrate! High elevation energy, world-class DJ entertainment and live acts return to Giggijoch Mountain as Sölden welcomes back the Electric Mountain Festival in April. The annual Snowbombing Festival, deeply steeped in legend, is celebrated in early April in the chocolate box setting of Mayrhofen.
The Best Winter Sports Events: Cheering in Snow
Internationally renowned sporting events and action-packed contests: Each winter, Tirol provides unforgettable opportunities to yell yourself hoarse by cheering for your favourites. From classics like the Ski World Cup Race Weekend at Rettenbach Glacier in Sölden, the Hahnenkamm World Cup Race Weekend in Kitzbühel and the Four Hills Tournament at Bergisel Ski Jump in Innsbruck, Tirol also welcomes the world to the Freeride World Tour in Fieberbrunn.