More fun in the cross-country skiing cross park in St. Ulrich am Pillersee
Last updated on 14.01.2022
The Pillersee Cross Country Park in St. Ulrich am Pillersee has been open since Christmas and offers a varied technique course in a fun way. This week the area was officially opened by Mayor Brigitte Lackner, TVB Managing Director Armin Kuen and the initiator Christoph Foidl from the Ski Club St. Ulrich am Pillersee.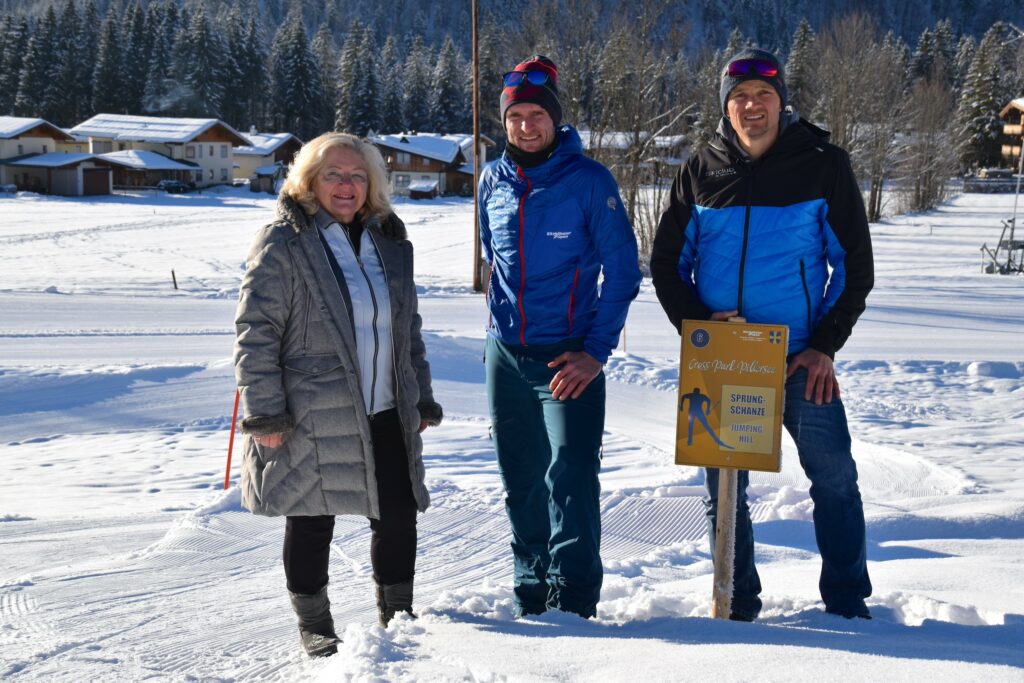 The PillerseeTal has added a creative facet to its cross-country skiing offer.
The first Cross Park in the region has now been opened in St. Ulrich am Pillersee.
On a total of 10 stations, children and the young at heart, experts and beginners alike can playfully venture through a course of different obstacles. From a simple slalom between colourful little hats to a fast-paced wave track and steep curves to a practice area, the Cross Park Pillersee offers a lot of fun and variety on around 800 metres. Those who are particularly brave will not miss out on the "hop" over the ski jump, and racers may even compete with each other in pairs or threes on the course – the tracks are certainly wide enough.
The newly created terrain is not only for beginners, but also for advanced cross-country skiers who want to playfully improve their technique and stability. "It's all about playfulness and fun. We want to give children and beginners a fun introduction and at the same time create a varied opportunity to improve technique and skill," explains initiator Christoph Foidl, who was also in charge of the implementation. The Cross Park Pillersee, directly at the cross-country ski trail entrance in the district of Schwendt, is to become a permanent facility, as TVB Managing Director Armin Kuen explains: "We are a family region and with the Cross Park we have another great facility in the family and cross-country skiing offer. An attractive product has been created that promotes fun in nature for guests and locals alike and that we also want to offer in the future throughout the entire winter season." For Mayor Brigitte Lackner, the Cross Park Pillersee is also a successful example of the great cooperation and commitment of the Ski Club St. Ulrich am Pillersee, which benefits locals and guests alike: "Thanks to the excellent cooperation between the ski club, the municipality and the tourism association, St. Ulrich am Pillersee has gained a valuable highlight. A big thank you goes to Christoph Foidl, who developed the idea and was also in charge of its implementation with the St. Ulrich am Pillersee ski club."
Use is included in the cross-country skiing ticket and is also possible in the evening with floodlights on request.
If you don't have your own equipment, you can simply get it at one of the eight rental and service shops in the region.
ou can find all information on the new Cross Park Pillersee www.pillerseetal.at