New Salvista cable car at SkiWelt Itter with technical innovations
Last updated on 18.01.2021
The new 10-seater gondola lift at SkiWelt Itter is a real winner with extra comfort and special features
On 26 November 2020 the day had finally arrived! The cable car company made the long-awaited positive announcement about the operation of the new Salvista cable car in Itter, and all those involved greeted this with great enthusiasm, of course!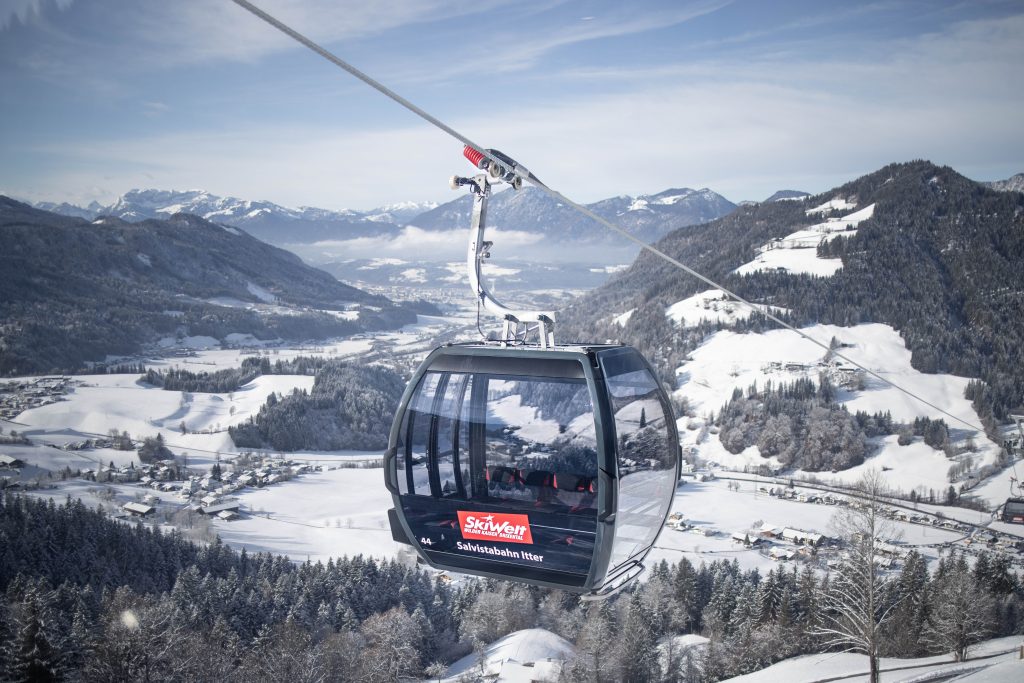 The new cable car has been built by Doppelmayer and is a perfect example of the fact that the D-Line cable car generation with its numerous innovations is continuously being further developed. The comfortable OMEGA V cabins are equipped with heated seats and, for the first time in the world, this gondola has a new variable load sheave assembly. This innovative solution has facilitated an adjustment of the position of the cable pulleys at the end of the sheave assembly to make the passage of the cabins even smoother and provide a more comfortable ride.
The Salvista cable car is also the first two-section lift in the D-Line generation designed with just one instead of two pulleys in the middle station. The pulley has two grooves: one for the cable in the lower section and one for the cable in the upper section. This solution has come with the advantages of being able to make the middle station more compact and reduce the length of the station. In addition, the system only needs one drive, which is also housed in the middle station – making the gearless and low-noise Doppelmayr Direct Drive the perfect choice.
Upgrade for the ski area
The new Salvista cable car replaces a 4-seater gondola lift dating from 1989. The valley station will remain at its existing location in Itter where a sports shop, ski rental, ski storage and new infrastructure have been created for mountain sports enthusiasts. The middle station is located at the former Kraftalm mountain station. The new mountain station will be connected via a new slope to the existing network of slopes at SkiWelt Wilder Kaiser – Brixental.
A new reservoir for improved snowmaking and an associated technical centre with a storage space for the slope equipment has also been built just below the mountain station. The Salvista cable car will make the ski area, with the new slopes and now with continuous summer operation, even more attractive for visitors to SkiWelt.
Facts Salvistabahn
Length: 2781 m
Speed: 6 m/s
Transit Time: 10,1 min
Vehicle: 70 Kabinen
Carrying Capacity: 2090 P/h
Opening: 12/2020