SECURE summer vacation
Last updated on 11.03.2021
From May to November 2021 you can cancel or rebook free of charge up to 48 hours before arrival
Maximum security and confidence when booking an accommodation in the summer season from May to November 2021 is guaranteed with the reliable "cancellation guarantee" solution of the Wilder Kaiser – Brixental region, with the four tourism associations Brixental, Hohe Salve, Kufsteinerland and Wilder Kaiser. The "cancellation guarantee" enables free cancellation in all SkiWelt locations up to 48 hours before arrival. All regular guests, early bookers and newcomers will continue to be offered the greatest possible flexibility and security for their summer vacation in the Wilder Kaiser – Brixental region.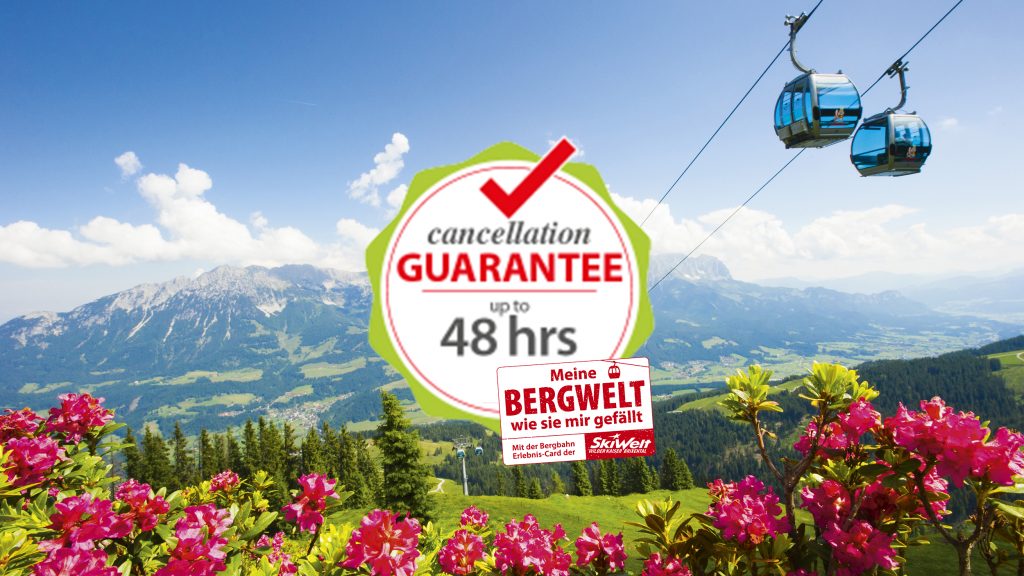 "We want to continue to offer our guests the greatest possible security in times when planning seems almost impossible and to stir up anticipation for the summer. The joint supra-regional cancellation guarantee within the SkiWelt villages is a great solution for all of our guests", agree the four tourism associations.
The cancellation guarantee includes
Free cancellation up to 48 hours before arrival
Cancellation free of charge up to the day of arrival in the event of border closure or entry ban for Tyrol or with exit ban from the home community
A large number of accommodations from all four tourism associations take part in the "cancellation guarantee" campaign, thus enabling guests to plan ahead for their summer holiday in 2021! Dream, plan and book your summer vacation – the "cancellation guarantee" makes it possible.
When searching for accommodations at skiwelt.at or on the websites of the individual tourism associations, you can find information from all accommodations about which special cancellation rules they are granting in the 21 summer season. www.skiwelt.at/accommodation
Get the Mountain Experience-Card in advance in the online ticket shop
With just 1 ticket, all 7 unique, lovingly designed mountain theme parks, as well as 15 lifts and over 700 kilometers of hiking are waiting for all nature enthusiasts in the largest mountain experience offer in the Alps. The Mountain Experience-Card (1 – 14 days) and day tickets for the mountain theme parks can be ordered in advance and delivered to your home from SkiWelt's online ticket shop. Of course, SkiWelt also grants its guests the greatest possible security when buying tickets online: The value of unredeemed tickets remains 100% and can be redeemed at a later point in time or in the following season. Shop: tickets.skiwelt.at
The first summer lift operators of Wilder Kaiser – Brixental will go into continuous summer operation from May 1st, 2021: www.skiwelt.at/summeroperatingtimes
More information: www.skiwelt.at/cancellationguarantee